Childcare Centre Cleaning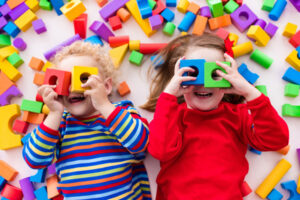 Our stringent childcare centre cleaning in Sydney complies with all regulations
The health and safety of children in Sydney childcare centres is paramount.
Kids are special, and it's important for them to have a safe, clean environment when they're in a childcare centre. Little hands love to touch and pick up things and that means countless touchpoints that need attention.
Now, more than ever, it's critical that childcare cleaning services in Sydney comply with all government regulations. Disinfecting all surfaces, and every touchpoint in the centres, including toys, and any playground equipment that could be outside, is part of all our childcare centre cleaning protocols.
Our day care cleaning services
At Aussie Cleaning, we understand the importance of complete childcare centre cleaning. When our highly trained team gets to work, every surface is cleaned and then disinfected, across playrooms, lunch rooms, bathrooms, and playground equipment.
Every toy is sanitised. Every surface is cleaned and disinfected, and that means floors, carpets, windows, taps, switches, furniture. Kitchens and bathrooms are fully cleaned and then disinfected.
Then we move to the outside area, and clean the façade, entry doors and playground equipment – again, cleaning and then disinfecting.
And after we've finished the complete clean, we carefully remove all waste and dispose of it off-site. We never place it in bins at the childcare centre or leave it for staff to dispose of. 
Talk to us now about your childcare centre cleaning needs on

 0478 003 888 or send us an Enquiry for an obligation-free quote.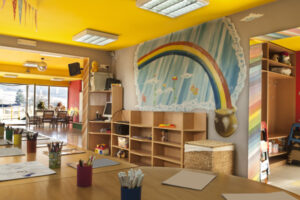 Our products and equipment are first-rate
For our childcare centre cleaning in Sydney, it's important to use the right products that don't cause any adverse effects. That's why all of our cleaning products are hospital-grade and eco-friendly, so we can maintain a safe and hygienic environment for both children and staff. And our disinfectants are TGA-approved and safe for areas around children.
Our cleaning equipment is state-of-the-art for mopping and vacuuming, steam cleaning and high-pressure cleaning.
So what makes Aussie Cleaning your Sydney childcare centre cleaners of choice?
When it comes to daycare cleaning companies in Sydney, Aussie Cleaning holds its own. Our team of skilled and highly trained childcare cleaners can tackle the biggest – and the smallest – of childcare centre cleaning. Whether you want a one-off deep clean, or need daycare cleaning contracts, we're here for you.
We offer you flexibility and competitive pricing, so you'll enjoy quality service for all your childcare cleaning needs. And we're professional – which means we are well presented, and polite – and reliable. When we make a time to clean your childcare centre, we'll be there.
Our knowledge of childcare centre cleaning is exceptional. Our cleaning staff are extensively trained in infection control, and all aspects of decontamination, disinfection and sanitisation services for childcare cleaning in Sydney. They wear personal protective equipment, which they dispose of after every use, along with disposable cloths and other waste.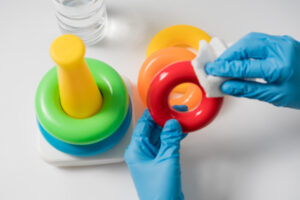 How we clean and disinfect
We use the Safe Work Australia recommendations for childcare centre cleaning and disinfecting, starting with the cleanest surfaces first, and progressively moving towards the dirtiest surfaces.
Before we disinfect a surface, we clean it thoroughly to remove dirt and grime. Then we disinfect the surfaces, leaving the disinfectant on for the time specified by the manufacturer to ensure that the product kills germs on the surfaces.
When you engage Aussie Cleaning as your childcare cleaning company, you can be assured that all cleaning and disinfecting protocols are in place to keep the little ones in your care safe.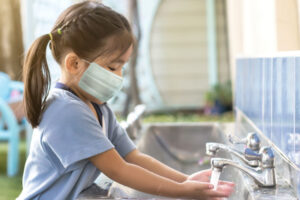 Childcare Centre Cleaning Checklist
We use a checklist to ensure that every area is cleaned and disinfected.
Floors – 

We mop vinyl floors with detergent, then finish off with a disinfectant.

Chairs –

We thoroughly clean and then disinfect every chair – plastic and wooden.

Doors –

Every door frame, door, and door handle is cleaned and disinfected, including the front door.

Switches –

Light switches and appliance switches are highly used touchpoints and need constant disinfecting.

Shelves –

Every shelf is cleaned thoroughly with detergent before being disinfected.

Tables and desks –

Thorough clean with detergent, followed by disinfectant.

Toys –

Toys require intense cleaning and sanitising because they can carry multiple types of germs.

Playground equipment –

We clean all dirt and grime with detergent, then spray with a disinfectant.

Toilets –

Sanitised and disinfected thoroughly. We also ensure centre staff are trained to clean as needed.